Although social networks are rising, email marketing is still one of the ways you can communicate with your customers effectively. This process is not optional, but it is a necessity for any business you have online. 
When you properly do email marketing, it will surely help anyone improve their traffic and sales and maximize profits. This is a guide to learn about email marketing5 Awesome Ways to Boost your SEO Performance, why it is essential, and how it will work to have a successful business.
What is email marketing?
When you communicate with your audience through an electronic mail message, it is called email marketing. It is simply a digital marketing process. The email sent to the customer has a commercial intent; however, they also educate the recipient. 
In a much simpler term, email marketing will use emails as a business sales channel. To do this, you will need to have a more extensive list of people who have signed up voluntarily to receive an email from your brand. 
The benefits of email marketing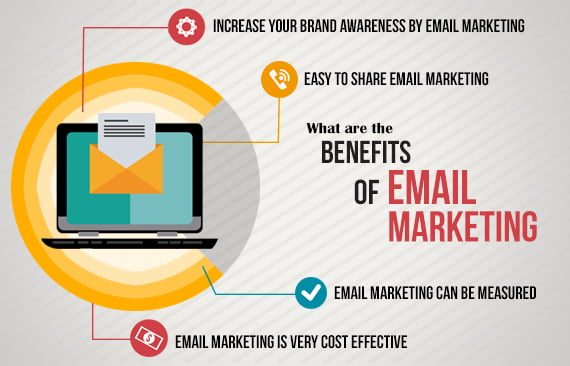 Here is the essential advantage of email marketing for any business online:
You can create more sales and have more leads

It is a great tool to make a community all-around your brand

It is an excellent way for you to have several recurring traffic

It will minimize the risk that is associated with the SEO algorithmic changes.
How will email marketing work?
Email marketing doesn't have any complicated process. However, it requires several A/B testing for you to find the best way for you to communicate with your followers in a way that will be advantageous for them and, most significantly, for the goals of your business.
Here is the overview of how will email marketing works:
Sign up for a tool for email marketing. You can automate the process if you use any email marketing tool. If you are going to use a personal account for you to email several people and you are going to track the result manually, this will not work. 

Make your strategy for email marketing. Like any other type of digital marketing, it is always good, to begin with, a strong plan. If you have an email marketing strategy, there will be no doubt that you will be successful.

Create and expand your list of emails. For email marketing to work successfully, you will need to have a more significant amount of active followers. That is why you need to know how to expand your email list.

Setup automation tasks. One of the essential advantages of this is that it can be fully automated. 

Check and upgrade the performance of your campaign via A/B testing. Aside from having the correct people who follow your list, you will also have to do several A/B testings to be successful.

You must clean your emails regularly. To minimize the cost and improve the healthiness of the list you have, you will need to have an occasional list clean-up, and you must remove those who are not active. 
Why is email marketing essential?
Here is the reason why this type of digital marketing is essential for businesses:
The email is used by half of the world's population. 

The audience is yours

You have the power to communicate with your followers directly

People volunteer to register for them to receive an email.

It  guarantees a higher ROI

Email is one of the most effective selling tools

You can automate emails and actions

You can accurately and efficiently measure its performance

It is one of the most significant survey tools

It can increase the value of your business online
Bottom line
Email marketing is one of the essential parts of any online business. If you already have your web page but don't have an email list, it is now time for you to put this on your to-do list.
However, this marketing strategy cannot help you grow your traffic, just like PPC or SEO. However, it can give you more sales and improve your revenue. The process might be confusing if you start, but you can find steps to do this quickly and easily.
Once you have already mastered this kind of marketing, you can create a few campaigns and easily monitor your campaign results. Never hesitate to try out your ideas but always remember not to spam your subscribers with several messages.