Do you want to own some of the most valuable real estate in the search engine results, conversions, and sales?
Pay per click (PPC) marketing is the easiest way to accomplish this. So let us learn through this article the basics of pay per click marketing.
What is Pay Per Click Marketing?
PPC (pay per click) marketing is a kind of internet advertising. Marketers get compensated each time a consumer clicks on one of their online advertisements. PPC assesses the perceived value of a user click, and advertisers bid on keywords, platforms, and audience groupings. 
PPC advertisements come in various forms, but one of the most prevalent is the sponsored search ad. These advertisements show when individuals search for items online using a search engine like Google. These ads range from a smartphone search to a local service search to someone looking for a high-end item software.
Businesses running advertisements in pay-per-click advertising are only compensated when a user clicks on their ad.  PPC advertising also includes display advertising and remarketing.
What Is the Process of Pay Per Click Marketing?
Advertisers cannot pay more to ensure their ads show more than their competitor's ads to appear alongside search engine results. Ads, on the other hand, are subject to what is known as the Ad Auction. In addition, major search engines employ an automated approach to assess the relevance and authenticity of advertising on their SERPs.
How Do Keywords Function in Pay Per Click Marketing?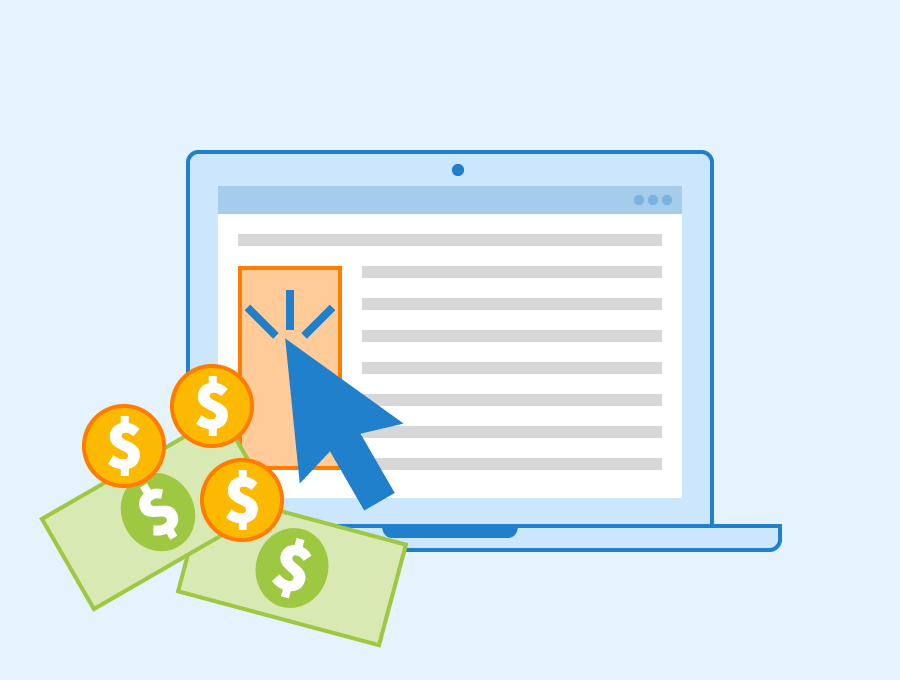 The Ad Auction is a bidding mechanism, as the name indicates. It implies that marketers must bid on the keywords they want their advertisements to be "triggered" or displayed. As a result, these terms are known as keywords.
When a user enters a search query, the search engine executes the complicated mathematical calculations based on the ad auction. Seeing it determines which advertising, in what order, and by whom. 
It is critical that you only bid on keywords that are relevant to your organization. The reason is you must pay for each click on your advertisements. 
As a result, you can be confident that your ad expenditure will provide a return on investment. A keyword tool helps you find the ideal keywords to bid on that will create sales or conversions.
Why Should You Use Pay Per Click Marketing?
PPC is quantifiable and trackable. You can monitor how your campaigns are working and traffic and how the results connect to your budget. In addition, it allows for a better knowledge of client behavior and search patterns.
Unlike SEO, PPC allows you to set up campaigns, generate advertisements, and rapidly discover new consumers and prospects. In addition, you will have budget freedom. For example, you may create an ad budget and decide how much you wish to spend.
You have many choices, whether you want to target keywords with search advertising or a particular demographic with display ads. In addition, your advertisements are compatible with all platforms, including mobile and desktop devices.
The Primary PPC Platforms
When it comes to PPC, this typically implies utilizing one (or both) of the two major platforms: Google Ads and Bing Ads. So let's have a look at these and other ad platforms you might be interested in.
Google Ads or Google AdWords
Google Ads is an ad platform that allows you to run Google search and shopping ads. Also, it will enable you to run  YouTube video ads, Gmail ads, and display ads on the Google Display Network. It is the most prominent PPC platform and offers various possibilities for nearly any business to succeed through the channel.
Bing Ads or Microsoft Advertising
Bing Advertisements, like Google Ads, allow you to run ads on Bing, Yahoo, and AOL. The two systems are similar in terms of management. The significant distinction is the size of the market and its potential reach.
As of June 2020, Google's market share in the U.S. is expecting 87.71 percent, Bing 6.99 percent, and Yahoo 3.44 percent. Bing Ads, on the other hand, can still increase traffic and conversions. And the ROI is sometimes reported as being higher than that of Google Ads but at a lesser volume.
Conclusion
There is a lot to learn about PPC. While we've covered the basics of pay per click marketing,  we've only scratched the surface of this complex. Thousands of businesses compete for the same audience in today's market.