The two sorts of search engine optimization strategies are on-page SEO and off-page SEO. On-page SEO focuses on sections of your website over which you have control. Off-page SEO, on the other hand, focuses on increasing the authority of your domain by creating content and acquiring backlinks from other websites.
But for you to understand, even more, this article will explain what each category is. And we will also discuss the difference between each other. 
What is On-Page SEO?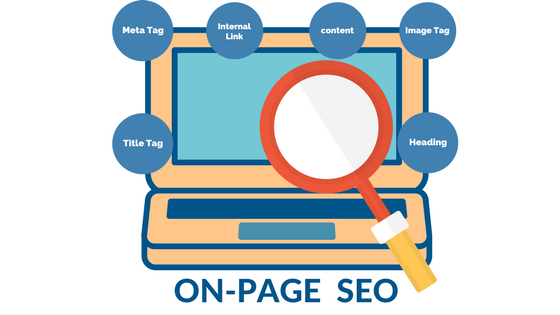 On-page SEO is the practice of enhancing various parts of your website that affect search engine results. It is content that you have control over and can update on your own website.
On-Page SEO includes the factors:
Title Tags
Include your chosen keywords in the title tag of each page on your site. While creating it, you must limit your title tag to 55-60 characters. This restriction includes spaces.
You should input the keyword at the beginning of the title. It should have a natural tone. In addition, your keyword should not be too long.
Headings (H1)
The largest words on the page are, generally, headings. As a result, search engines give them somewhat more weight than the rest of your page text. It's a good idea to incorporate your objective keywords into the headers of each web page. 
However, you must guarantee that the information on your page is accurately represented. Always remember to limit your H1s to one per page. The rest of the headers should be H2 or H3.
URL structure
If at all feasible, use keywords in your URLs. However, you should not change all of your present URLs merely to include keywords. If you don't plan on redirecting your old URLs to your new ones, you shouldn't alter them.
Users would appreciate it if you label your directories and files in a logical manner. Make sure you won't use the same term in your URL twice and should be short.
Alt text for images
Any good content management system should allow you to add "alt text" to all of your website's images. This text will be invisible to the average visitor. It is used by screen reader software to help blind internet users comprehend the content of your images.
Search engines crawl images in a similar manner. Search engines will be able to understand the content of your website if you utilize relevant keywords while accurately describing the image.
Adding an alt tag to each image guarantees that your website complies with the Web Content Accessibility Guidelines. You must explain the image in 8-10 words in order to write alt text. And you must include keywords that should sound natural.
Fast-loading pages, or page load speed
Google strives to provide the best user experience possible by assisting users in quickly finding what they're looking for. As a result, increasing the speed with which your pages load can help your website rank higher in search results.
PageSpeed is a Google-developed technology that gives information on your website's mobile and desktop performance. It also makes recommendations for increasing page performance. There are also a few simple fixes for whatever is slowing down your site's page load speed.
Google has made mobile website loading time a major ranking criterion. This test allows you to input the URL of a website. Then, based on Google's current algorithm, it will indicate how user-friendly the website is.
In addition to page load times, website design must address the mobile user experience. A Mobile Usability Report is one method for analyzing and optimizing your website's mobile layout. This will highlight any possible issues with your website.
Page content
People must be able to make use of the information on your site. If people search for anything too specific to find your page, they must be able to find what they're looking for. It should be easy to read and beneficial to the end-user.
Your work must have at least 500 words of text. Google prefers pages with a lot of quality material surrounding your chosen keywords. The content must be taken from other pages on your website as well.
It should instantly respond to your visitors' search queries. Finally, the keyword should appear at the beginning of the title. Keep in mind, however, that it should only be utilized if it sounds natural.
Internal Linking
Internal links to other pages on your site are beneficial to both users and search engines. Make sure the anchor wording is meaningful when building internal links. 
The underlining and blue font color are typically used to denote it. To make your anchor text more effective, make sure the term you use is related to the website you referred to. On-page SEO guarantees that both potential consumers and search engine robots can read your website.
If you have excellent on-page SEO, search engines can rapidly index your web pages and understand what your site is about. Search engines will be able to easily navigate your website's structure and content, ranking your site accordingly. Lastly, include 1-3 relevant internal links in the content of your page.
Schema Markup
Including structured data helps Google's comprehension of the content of a page. Google uses certain types of structured data to offer outstanding results in SERPs.
These are recipes with start ratings and step-by-step instructions with a photo carousel. These results are typically seen at or near the top of SERPs and have higher click-through rates than standard organic listings.
Rich text result
For structured data, Google favors the schema.org vocabulary and the JSON-LD format. They also give a Rich Results Test tool for double-checking your code. Structured data may be included in your website in a variety of ways. However, if you are not comfortable writing code, it is always preferable to seek the assistance of a professional.
Page Experience
Google is working on a new ranking feature that would reward websites that deliver excellent user experiences. The page experience signal will be made up of Core Web Vitals. Mobile usability, safe browsing, HTTPS security, and unobtrusive interstitial requirements will also be incorporated.
What is Off-Page SEO?
Off-page The goal of SEO is to increase the authority of your domain by obtaining links from other websites. Your website's Domain Authority determines how authoritative it is in comparison to other websites. The amount of links is still essential.
However, content producers and SEO experts are recognizing that link quality is now more essential than ever. Creating shareable content is the first step in gaining quality links and increasing your off-page SEO. Previously, SEOs believed that purchasing links was a legitimate method of link building.
Google will now penalize you if you try to affect page rank by purchasing links. You will suffer a penalty if you submit your links to link directories in order to boost your site authority. When it comes to link building, quality once again beats quantity.
Conclusion 
For your search engine rankings to increase, you'll need a combination of both on-page and off-page SEO. However, before focusing too much on off-page SEO, SEO experts advise setting your on-page SEO in order. It is conceivable that you may need to reassess your on-page SEO strategy from time to time.
Balancing the two will improve your website's understanding. Both your users and search engine robots will comprehend it. That is how your search engine rankings will begin to rise.